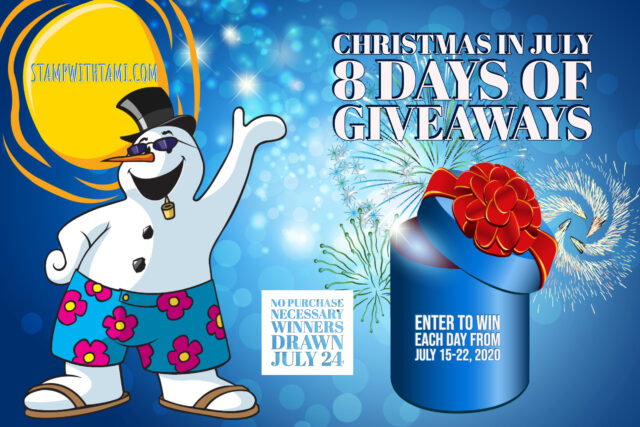 CHRISTMAS IN JULY GIVEAWAYS
July 15-22
Normally in July I go on vacation on a Stampin Up incentive trip. One of the ways I like say "thank you for your support" is by throwing you a party filled with giveaways. Our incentive trip had been canceled due to Covid 19, but I'm still grateful for you and still holding the cyber party!
These giveaways will happen right here online at www.stampwithtami.com. There is no purchase necessary to enter.
Beginning July 15-22, each day I'll be offering a special Prize Patrol (fill out form to enter). Some days will have multiple prizes and multiple winners will have multiple winners.
Giveaways will begin Wednesday, July 15 and will post on my Christmas in July Headquarters section.
Details:
To enter, fill out the form for each day's giveaway

After you enter, you will be given a link to share for 2 additional entries if you wish

Winners will be drawn randomly via computer generator on Friday, July 19
1 Prize per person. If a duplicate name is randomly drawn twice, the person will win the 1st prize, and I will re-draw a new name for the 2nd prize.
Prizes must be shipped within the United States
Winners have 2 weeks to claim their prize
All Christmas in July posts can be found here
Winners announced on YouTube , Facebook, my weekly Newsletter and my Winners Page.